DECATUR, Ill. — Millions of gigabytes of thought go into designing revolutionary autonomous equipment, and experts say some of that early thought needs to be directed toward safety.
Among those on the safety squad is Salah Issa, who directs the University of Illinois Agricultural Safety and Health Program. He says safety needs to be a priority in early design — not something to be followed up later.
For example, tractors started gaining popularity in the late 1800s. But after many accidents and fatalities, the first rollover protection equipment wasn't widely used until the 1970s, he says. Even 10 years ago, surveys show that many farms still have a tractor without rollover protection.
"We don't want to be introducing safety features 100 years after (autonomous tractors are commercialized)," Issa says. "We should be introducing them at the very beginning."
He first became aware of safety issues while working for the USDA's National Agricultural Statistics Service from 2018 to 2020 when he was tasked with gathering stats about grants for autonomous ag safety and found there were none. When he joined the University of Illinois in 2020, he knew such safety would be a priority for his work.
"There are many questions we need to address in these areas," says Issa, an assistant professor in the Department of Agricultural and Biological Engineering. "We are in the early stages."
Issa helped organize the SAFER AG symposium and workshop in November last year. It was a true workshop as people identified problems and exchanged ideas, he says. More than 100 people attended, with 40% from academia, 40% from industry, 10% from government, and 10% from farms and advocacy groups, he says.
The two-day event focused on regulation and standards — what they should look like, research needed, and the possible impacts on rural communities. The next step is to apply the information, he says.
The industry has already put a lot of effort into designing safe autonomous equipment that reacts to a person in front of it.
"They have a good handle on this," Issa says about sensors that stop the vehicle when something is in front of it and alert the operator.
When a tractor stops, an operator needs to check and see why before proceeding. However, this could be annoying if the tractor keeps repeatedly stopping without apparent reason.
"If he has to keep going back, he doesn't save time," Issa says.
Eventually, an operator might consider turning off the safety sensors, he says.
In other vehicles, including mowers, which have a safety feature that stops the engine if someone gets off the seat, people sometimes disconnect that feature to keep the vehicle running even if someone isn't seated.
The greatest areas of concern are not about how the vehicle will operate in the field, but how it will get there. How will it get between fields or travel on public roads? Issa says to the best of his knowledge, autonomous tractors are certified to operate only in fields today, not on roads.
Ryan Jardon, John Deere's marketing manager for large tractors and tillage equipment, says their new auton omous 8R is designed to operate in a fixed area confined by a video fence and will not be driven on public roads.
"We are in a test environment and building out capabilities," he says.
There is no timeline yet when this tractor will be available, he says.
Safety was clearly a priority for those demonstrating autonomous equipment at the Farm Progress Show in Decatur in August. For example, when Mojo Autonomous Solutions demonstrated how its Eyebox converts a Versatile tractor into an autonomous tractor that stops for obstacles, a driver remained in the tractor seat as an extra measure of safety for the viewing crowds.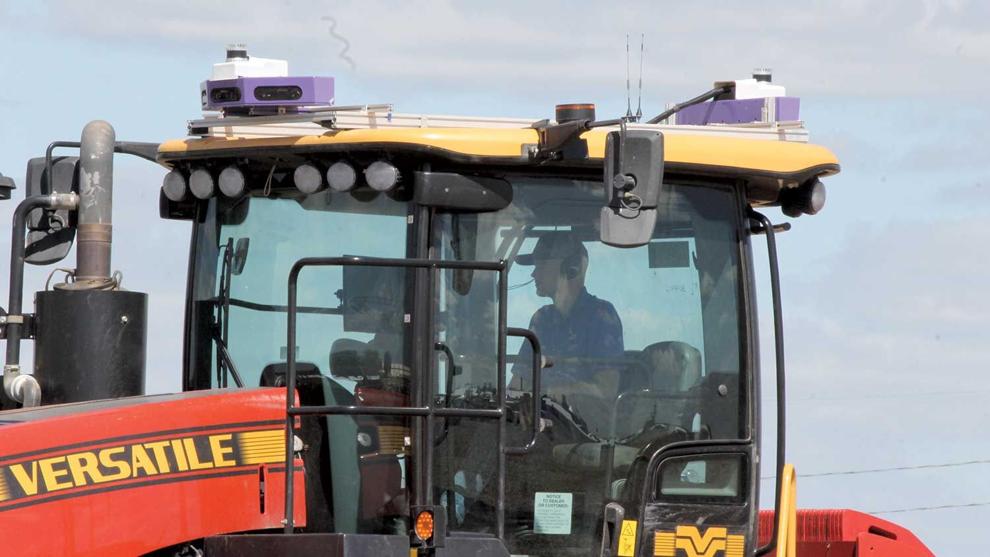 The Versatile tractor stopped immediately when a pickup truck entered its path. It demonstrates some of the safety features of the new system, says Mojtaba Hedayatpour, director of artificial intelligence for the Canadian startup company.
He says about a dozen of the new systems have been ordered to be delivered to farmers in the spring.
A tractor operator drives the first pass in the field, setting up the parameters for the Eyebox, then rides along the second and third passes to ensure it is set. The operator can then go on to the next task knowing they will get a notification from their phone if there is a safety or function problem, Hedayatpour says.
Like other autonomous vehicles, it will not be driven on the road, but taken on a trailer, the company co-founder says.
Often autonomous features are designed to assist in driver safety. For example, the New  Holland T4 Electric Power utility tractor, billed as the first all-electric tractor with autonomous features, has its own invisibility cloak of sorts. Lena Bioni, New Holland Agriculture's product marketing manager, says the screen view allows the operator to see past the bucket loader, helping avoid accidents. The tractor also stops if there is an obstacle in its path.
"It turns an unskilled operator into a skilled operator with these driver-assist features," Bioni says.
Investments in research about safety for robotics and autonomous vehicles should be made now, Issa says, so future farmers don't have to pay later. Knowing what today's version of rollover protection may be could prevent injuries and possibly save lives.