I was heading north along I-35 through central Iowa on a blistering hot August day when I came upon the flashing yellow caution lights and tattered red flags of a lumbering oversize semi load. Even from a quarter mile away, this load looked unusual … and way larger than most.
Turns out "this load" was one of Deere's new X9 combines, a monster of a machine — configured with tracks, a grain tank the size of Jack Trice stadium and a three-section unloading auger the length of a SpaceX rocket.
With a price tag north of $800K and harvest capacity of 7,200 bu. of corn an hour, it may have been in route to a mega farm somewhere in the corn and bean paradise of southern Minnesota, I imagined, to an operation with a fleet of grain trucks (and a savvy accountant.)
The combine business has been good of late. In fact, the Association of Equipment Manufacturers reports that 6,272 combine harvesters were sold in the U.S. in 2021 — a 24.7% increase over 2020 and well-above the 10-year average. That strong sales pace has continued into 2022, with 2,856 units sold through July — around 2% fewer than last year.
Of those 6,200-plus combines retailed in 2021, less than 10% were the jumbo Class 9 and 10 variety (Deere X9). The greatest number of machines fell into that Class 7 and 8 size. So, if you're a combine maker set on increasing your share of the combine pie, that's where you're going to stick your fork.
With that in mind, CLAAS of America earlier this summer rolled out its all-new TRION 740 combine. Designed with a bullseye on small- to mid-size corn and bean producers, this new Class 7 competitor ought to have strong appeal to growers who favor ease of operation, reliability and low cost of ownership.
Start with the CLAAS APS hybrid threshing system. It features a 56-inch-wide feed drum and cylinder/concave which conveys crop into the single 24-inch-diameter rotor. A one-to-one feed-to-thresh ratio paired with straight in-line crop flow provides gentle grain handling, high throughput and better fuel economy.
The TRION also boasts one of the fastest crop changeovers in the market, requiring less than five minutes to switch from corn to beans. And if you farm sidehills and rolling terrain, you'll like the standard-equipped 3D slope compensation system. It automatically adjusts the rotor concaves to reduce the amount of material falling onto the downhill side of the upper sieve, improving cleaning efficiency, boosting grain quality and putting more grain in the  tank.
"The Class 7 combine market segment has long been in need of new innovation," said Greg Frenzel, CLAAS product manager for combines. "The CLAAS TRION 740 was designed from the ground up to address the needs of 1,000- to 3,000-acre farms, a segment of farms making up over 30% of all combines sold in North America."
CLAAS engineers made reliability and low maintenance top priorities when developing the TRION. Long grease intervals and extended wear parts used throughout the threshing/separating system reduce maintenance and cut repair costs.
Equipped with a 6-cylinder, 8.9-L Cummins engine with 402 rated hp, the TRION 740 easily handles 12-row corn heads or draper platforms up to 40 feet wide. Yet field trials show the machine sips fuel at a miserly 1.1 gal. per acre.
And in case you missed it a while back, Deere updated its header lineup with the introduction of the HDR rigid drapers, RDF HydraFlex drapers and new CR/CF rigid and folding corn heads.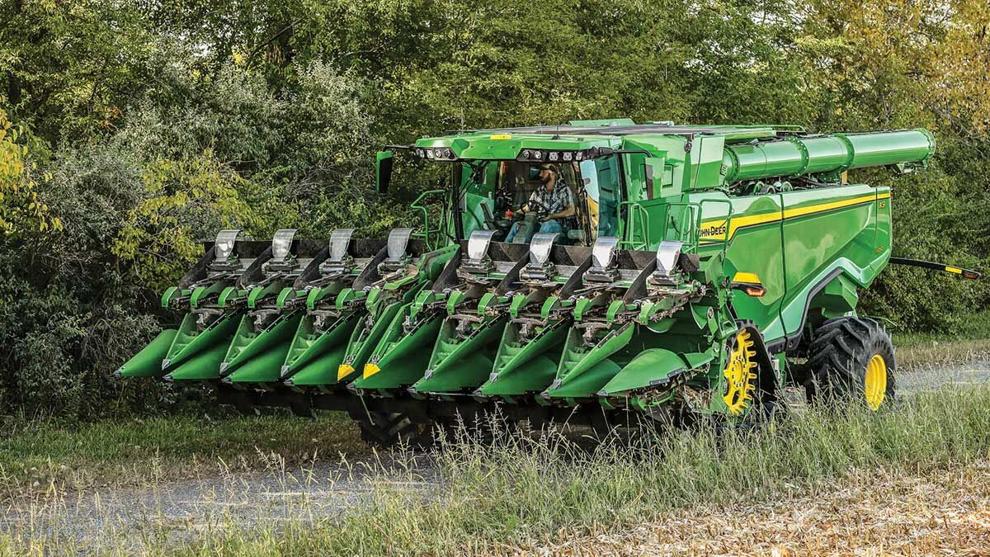 Built on the technology of the existing John Deere 700FD flex draper, the HDR Series is available in cutting widths from 35 feet to 50 feet and are compatible with new X Series, S Series and T Series combines dating back to model year 2012.
John Deere CR Rigid corn heads are designed to help growers who run X Series, S Series and T Series combines harvest more bushels per hour in high-yielding corn while cutting grain loss and damage.
John Deere CF folding corn heads offer all the features of CR rigid models, but in a new easy-to-transport, low-profile folding frame. The new folding heads are available in 12-, 16- and 18-row configurations for X Series combines and 12-row sizes for S Series machines.
What's more, these new headers now feature a header control unit (HCU) that communicates with the combine. The HCU saves head-specific factory calibration settings and collects and sends header-width information to the combine for accurate yield mapping — no need for an operator to input the data.
Rick Haun has more than 35 years' experience writing about ag and industrial equipment, much of that time with John Deere. He resides in Shawnee, Kansas.