Although stratospheric fertilizer prices have fallen back to earth over the past few months, the cost of N-P-K is still at historic highs. Seed prices also continue to defy gravity — where $400 a bag for today's hybrids has become as commonplace as $3 eggs.
As a result of the high input costs, growers are rethinking their approach to their fertility program — especially at planting. It's not enough to just get the seed in the ground at the right depth and consistent spacing. Now, growers are concocting exotic cocktails of fertilizer, micronutrients, biologics and insecticide, all with the goal of ensuring that pricey seed survives infancy and thrives during those early weeks of development.
Travis Routh, GM and co-owner of L&D Ag Service in Hartland, Minnesota, says interest remains strong for planter-applied fertilizer in his trade area along the Iowa-Minnesota border. He's seen an increase in the number of producers who are applying a double-shot of N at planting with a dose in the furrow and another band placed either on the surface or 2 inches below and 2 inches to the side of the furrow, giving the plants another boost of N early in the plant development.
"Growers in our area are seeing healthier corn plants in the earlier growing stages," Routh said.
In addition, his customers are experiencing increasing insect pressure, which is also leading to more planter-applied insecticide.
L&D offers growers complete turn-key systems for most OEM planters. These palletized kits include piston pumps with contact tire drives, electric pumps with consoles, or hydraulic pumps for sectional control which can shut off as few as four rows per section to minimize overlap. The sectional control kits are compatible with Raven consoles, Ag Leader displays, and John Deere rate controllers (among others).
And what about high-speed planters? L&D tailors those systems with larger tanks, pumps, hoses and manifolds to allow for the higher flow rates needed on the high-speed planters.
Section control continues to gain in popularity among L&D customers, and Routh is enthusiastic about "Select Shot," a recent product from Topeka-based CapstanAG. Rather than apply fertilizer along the entire length of the seed trench, Select Shot places product only on the seed — a "dose per seed" that cuts down on tank refills and trims fertilizer costs.
Deere has also recently released a similar system on its ExactEmerge planters — "Exact Shot" — which delivers a shot of starter fertilizer at the precise spot that the seed is placed.
Jared Tokle, precision ag manager with Key Cooperative, an ag services business with more than a dozen facilities scattered around central Iowa, has also seen a resurgence of interest in starter fertilizer programs. His customers are "reallocating their fertilizer programs, with producers foregoing broadcast and opting for a lot more starter systems," according to Tokle.
"A lot of the farmers I work with own their own ground and are interested in building up the fertility of their ground over time," he said.
And moving away from broadcast to starter fertilizer can be a "whole different ballgame" for growers. "There's a lot more to it — just the logistics of getting material to the field may require the investment in another tender, for example," Tokle said.
What is the go-to starter formula? It starts with a liquid nitrogen applied at the rate of about 30 lbs./acre along with phosphorous — such as Phos Plus.
"Many growers are also incorporating biologics and micronutrients into their starter mix … and some are also adding liquid insecticide such as Capture," which is becoming more popular among his customers.
Centrol Precision Ag offers a number of different starter fertilizer solutions from Ag Leader, Yetter and Precision Farming.
One unit that gets high marks is Conceal — a recent addition to Precision Planting's line up.
"It's simple, provides precise fertilizer placement, doesn't splatter and puts the product right where the plants can benefit," according to Tokle.
With today's high-speed planters, there's a lot to putting liquid on a planter. And that's one of the reasons why Tokle recommends working with a distributor if you are considering a liquid starter program.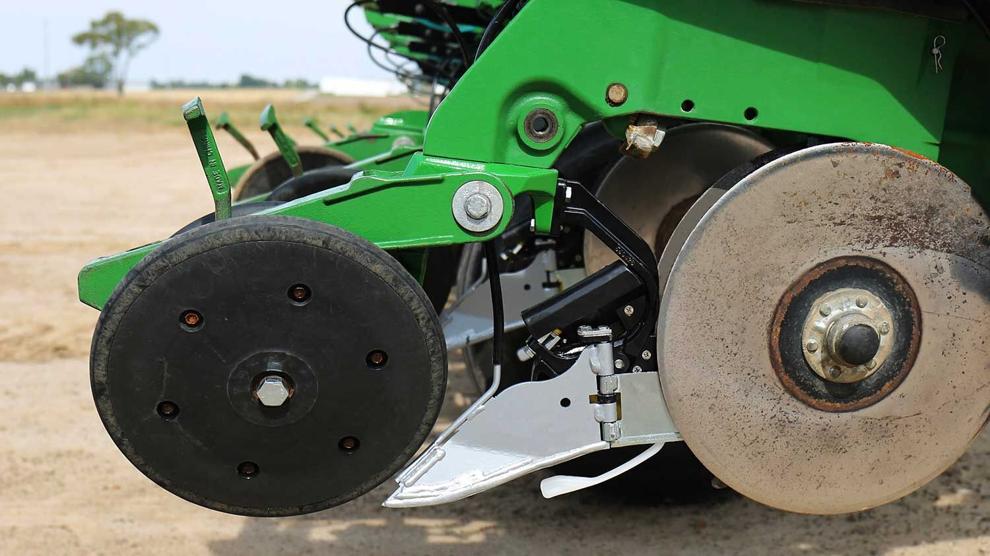 Larry Geerts, Iowa regional manager for 360 Yield Center based in Morton, Illinois, is also seeing a slight uptick in the adoption of starter fertilizer systems.
"I believe we are seeing an increase — especially in areas with marginal, low-fertility soils," he said. He's also seeing the "re-adoption" by some producers who have used starter fertilizer in the past.
Growers are looking at starter fertilizer as an avenue to refine their operations, and it is back on the table for a number of producers who tried it in the past. Of course, there are growers who are giving it a go for the first time — notably no-till and min-till producers.
Geerts said two of the more popular row-unit-mounted products offered by the 360 Yield Center are the 360 Bandit and the 360 Wave.
360 Bandit streams bands of liquid nitrogen on both sides of the furrow, 3 inches away from the seed. Nitrogen is placed just three-fourths of an inch below the soil surface, which reduces volatilization and allows for rapid movement down into the root zone. Both systems retail for less than $400 per row unit, Geerts said.
The compelling reason for starter fertilizer — in Geerts' experience — is to provide the nutrients needed by the plant early in its life cycle. The benefits of starter fertilizer especially show up in wetter, cooler springs when delayed germination is more of a factor as it gives plants a boost at a critical time early in the plant's development.
Rick Haun has more than 35 years' experience writing about ag and industrial equipment, much of that time with John Deere. He resides in Shawnee, Kansas.