DECATUR, Ill. — The target of new ag technology may traditionally have been young, innovative farmers itching to get their hands on it after college or established farmers who knew the tech would pay off in efficiencies over vast acreage. But today, everyone wants the yield advantages and productivity technology offers.
At this year's Farm Progress Show, at various field days, and on farms of all sizes, it is clear the attitude among manufacturers, retailers and especially farmers is "tech for all."
The trend has been clear in planter accessories for years. Companies increasingly offer to retrofit items for downforce control, depth control, closing systems and display monitors. Instead of investing in a new, expensive planter, more farmers can retrofit their older planters to improve yields.
Andrew Baer of Precision Planting says a 2009 sprayer was used in testing the new Precision Planting sprayer products. It proves older sprayers can be upgraded.
"Even older than this can be used," he says.
As farmers continue to adopt precision ag technology today, "we try to make each step easier," says Ryan Jardon, John Deere's marketing manager of large tractors and tillage equipment.
Kendal Quandahl, Case IH field team manager for North America, says his company is focusing on connectivity this year, allowing farmers to do tasks remotely while working on other things.
"With Iowa planting windows shorter and shorter, we have to make the best use of time," he says.
Their Advanced Farm Systems (AFS) Connect is factory-equipped on several series of Case IH tractors, sprayers and combines and can be added to others, he says.
"We started connectivity with our higher-end series and now it is integrated into machinery of all sizes for farms of all sizes," he says.
David Brennan, planter marketing manager for Case IH, says farmers with smaller operations want features including downforce and in-cab control that traditionally weren't available on smaller planters without retrofitting.
Once the grain is harvested, farmers are looking for connectivity in their drying operations as well. GSI product manager Alan Lockwood notes that farmers may be in the tractor or combine while they are monitoring what is going on in their drier using their iPad or phone with the new GSI Connect mobile app.
"Labor is getting tighter," he says of the need to continue doing more than one thing at once.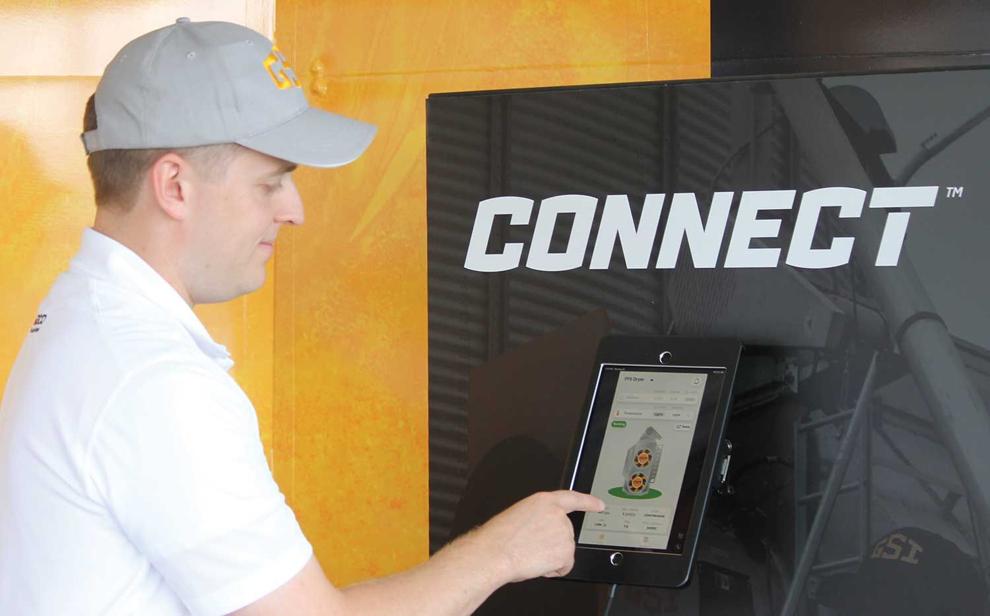 Creative driver assist keeps popping up to help farmers in a variety of situations.
"Follow-me mode" is one of the driver assist features of New Holland's T4 Electric Power tractor. If a farmer is putting up fencing, for example, she can program the tractor to follow along, says Lena Bioni, New Holland Agriculture product manager.
"The lack of skilled labor is a pain point for our operators," Bioni says.
Some features are meant to make one-man jobs out of what would normally take two people. Others, including 360 awareness of humans or animals in the area that stops the vehicle, help address the issue of less skilled and new drivers, she says.
At the Farm Progress Show, farmers witnessed the unveiling of a prototype of an all-in-one autonomous farming machine, NEXAT, which could be involved in all phases of farming from ground preparation to planting to spraying to tillage.
Matt Ochsner, one of the farmers helping to test and give feedback on prototypes, said it is nice to see something that could change the industry. NEXAT might also help farmers address labor shortages, he said.
"I don't know if we're quite there yet, but it's a different concept. It's a little bit futuresque," he said.
Others are aiming at getting the latest technology in farmers' hands now — or at least by spring. This includes Mojtaba Hedayatpour and Owen Kinch. Together they co-founded Mojow Autonomous Solutions, a startup company in western Canada.
With continued labor shortages, there is an immediate need for equipment with autonomous abilities, but it will take between 10 and 20 years before some of it now under development is available to average farmers, Hedayatpour says. Their approach is to get something to market that "farmers can immediately use."
Kinch's urgency comes in part because he is a farmer as well.
They came up with the Eyebox that can be installed in an existing tractor — today a Versatile tractor, but that will be expanded in time — to make it autonomous. A farmer can set the tractor up in a field doing tillage, for example, and go do other work. Orders are being taken now for spring delivery, Hedayatpour says.
 "It can be more cost-effective," Hedayatpour says.
While Eyebox may cost between $100,000 and $200,000 depending on functionality, a new autonomous tractor may be in the neighborhood of $1 million, he says.
"It unlocks the potential of existing equipment," he said.
In time, autonomous and robotic features may allow farmers to have smaller machines instead of scaling up, addressing labor shortages, and allow people to get into the business with less capital expenses, Salah Issa, University of Illinois Extension.
"Autonomous systems can transform how we farm," he says.
Additional reporting by Taylor Vidmar with Lee Enterprises.