By Austin Black

Rachel Grimes is the first to acknowledge that her greatest achievements in the show ring are the result of hard work, supportive parents and gracious mentors. And her greatest memories revolve around helping others achieve success.
Growing up on a commercial cow-calf operation near the small town of Archie, Missouri, Grimes decided she wanted something different for her 4-H show career. She quickly gravitated to showing hogs because it was something new she could learn and the show ring fit her personality.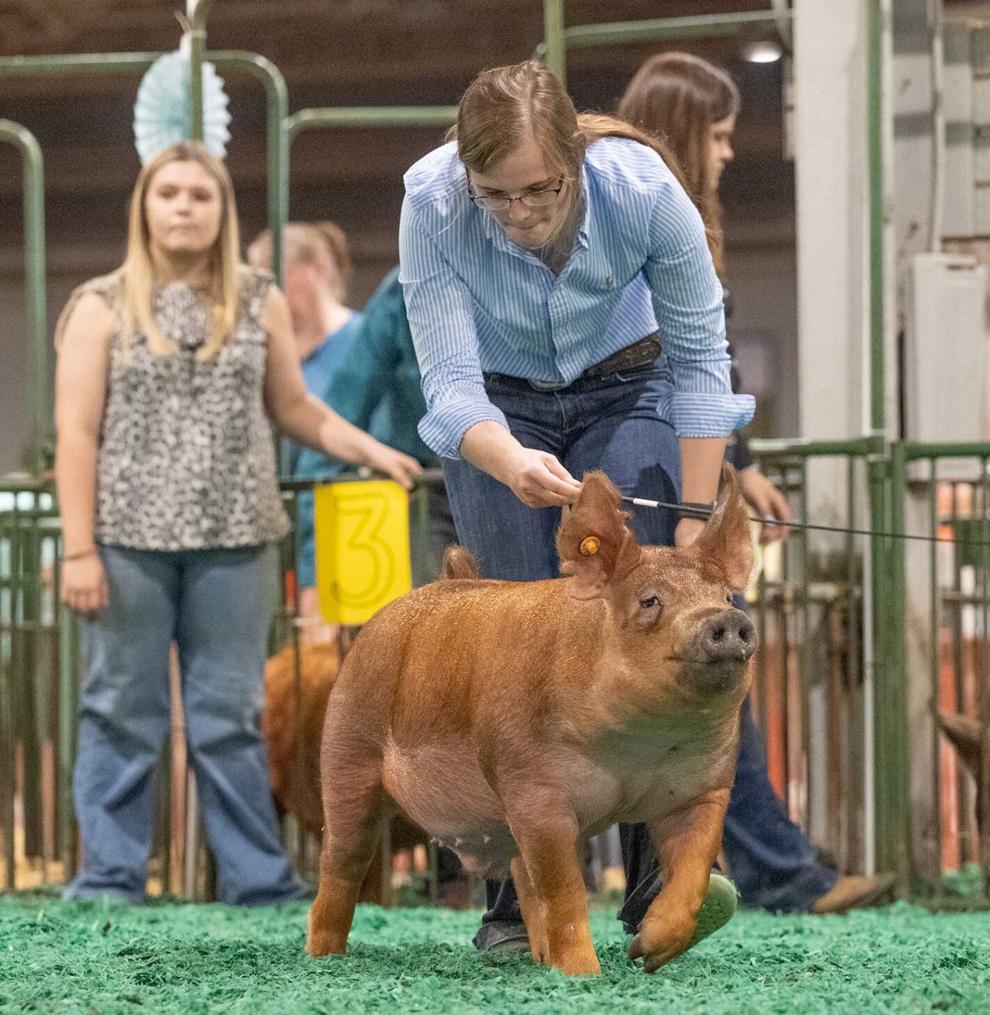 "Pigs require so much more attention, and growing up, if it didn't keep my body and brain going, it didn't interest me," she said. "With pigs, you're constantly moving in the show ring."
She was fortunate to have parents who helped her build a hog barn, fund the travel to shows and allow her as many opportunities as possible to learn. She also found nearby friends who were highly successful in the show pig world, and they become her second family.
"The McAlexander family raised me in the show pig industry. They saw something in me and were my greatest mentors," she said.
Her parents helped pay for the first-year project. But after that, Grimes had to be fully self sustaining.
"The money I had to buy my pigs and my feed was what I made from selling at the fair the year before," she said. "My parents always pushed me to learn more about being self sustainable."
Her mentor, Eric McAlexander, helped her find high-quality hogs at an affordable price and taught her how to make the right feed rations to make them grow. He also guided her through the strategies of raising and caring for hogs throughout the season so they would perform the best on show day.
Even with the help, though, Grimes still had to learn how to win.
"We didn't start seeing success until 2015 when I got the top two awards at my county fair," she said. "From there we got it figured out, though."
They found the pattern of selecting, feeding and training that worked. After that, it was just a matter of working hard and implementing the process.
Grimes started competing at more shows across the country and grew the show string so she would have hogs ready throughout the year. She also started breeding and raising her own hogs, some of which made the cut back into her show barn.
One of those hogs was good enough to win Grand Champion Chester White Gilt at the National Junior Swine Show Summer Type Conference in 2022.
"Being able to experience that with the McAlexanders and my parents was one of the most magical moments I've ever experienced in my 20 years of life," she said.
That pig also claimed Grand Champion FFA Chester White Gilt, Grand Champion Overall Chester White Gilt and fifth place overall purebred at the Missouri State Fair.
Even with the number of awards Grimes has received, she still finds more fulfillment in the pursuit of success and helping others along the way.
"Every time I went into the show ring, it was a different type of adrenaline rush. You never know what the judge is going to say," she said. "You can work hard, but that's not what will give you the trophy. You have to have faith in the process and be satisfied in the work you've done."
That work not only included the hours spent practicing, but also the time spent networking with other breeders, studying feed rations and watching other contestants in the ring.
"I spend a lot of time in the bleachers to watch the best of the best showing. I also spend a lot of hours in the yard with my parents and the McAlexanders, asking what I can do better," Grimes said.
In 2018, she attended a national show and was introduced to several large producers who had won championships.
"I got introduced to a lot of people that were pioneers," she said.
As she has learned from others, Grimes loves to pass her knowledge and insight along. In fact, some of her favorite memories from showing involve helping her friends with their pigs.
In 2021, she had a friend competing at the Missouri State Fair for the last time as a junior exhibitor. She hadn't had the best luck in the FFA show and was getting ready to compete in the open class.
"We all just gathered around her and encouraged her to go do her best. She ended up with reserve champion in her breed," Grimes said. "Seeing her find success and being a part of that preparation work was one of the best things I'd ever seen."
Now, as Grimes enters her last year as a junior exhibitor herself, she is focused on the next generation of showmen.
"The young people coming up set my heart on fire," she said.
She believes it's her responsibility to share what she's learned in hopes of helping others find greater success of their own.
"If all I ever did was learn and never gave that knowledge to anyone else, I missed the whole point of showing livestock," she said.