Corn Belt producers accustomed to getting an early- to mid-April jump start on planting were throttled by this season's cool, wet spring. Farmers were revved up and smoking their tires at the starting line. But once the green light flashed, the pace of planting was unrivaled.
In fact, USDA figures show that less than 15% of the Iowa corn crop was planted by the second week in May. Two weeks later that number had soared to more than 90%. Producers planted a record number of acres, shattering the pane in this year's planting window!
Of course, wider-working machines of 24, 36, and 48 rows had much to do with that record. But there's another factor at play. Speed. And thanks to planter advancements such as electric drives, active row-unit down-pressure and GPS row-guidance, planter speeds of up to 10-mph (and higher) are becoming the norm.
John Deere was one of the first to offer a high-speed machine with the introduction of ExactEmerge. But other farm equipment makers have quickly caught up.
Just ask Missouri grower Richard Gunnels. He was among the first to get his hands on a new Kinze Model 3665 True Speed planter — introduced earlier this year by the Williamsburg, Iowa, manufacturer.
Kinze's 16/30 split-row pivot-fold machine has Blue Drive electric drive, True Depth hydraulic down force, Blue Vantage display and more.
Gunnels has long planted at a leisurely 4.5 to 5.5 mph pace with his Kinze Classic split-row machines.
"I'll tell you I was really skeptical about planting at higher speeds … but we found with the Kinze hydraulic down-pressure we could maintain our desired 2-inch corn planting depth at speeds of 8 to 9.2 mph," Gunnels said. "And I think I could have gone even a little faster had I wanted to."
Thanks to the speed boost, Gunnels planted from 300 to nearly 400 acres in a day — about 50 to 75% more acres than with his Classic split-row machine.
With electric row-unit drive, the new planter opened the door to variable-rate planting.
"We had prescriptions created for each field … and when we pulled into the field, we hit the prescription for that field and started planting. It was that easy," Gunnels said.
He expects the big payoff will come from his corn acres. With prescriptions, he was able to vary population rate to match soil zones — for example 36,000 seeds per/acre in zones with greater potential and 32,000 in those lower-potential zones.
The new 3556 and its True Depth hydraulic downforce makes it easy to dial in the desired seed depth and achieve that depth consistently across the width of the planter, regardless of terrain or residue levels.
"The row units are engaged in the ground — and stay straight, level and smooth," said Gunnels.
I talked with Gunnels in mid-June a couple weeks after he finished planting his 3,500 acres of corn and beans. He praised the quality and consistency of his stands.
And as far as beans go, Gunnels liked how the electric drive also let him adjust seeding rates to soil zones. He was able to plant at thinner populations, which ought to result in more vigorous bean stands of lower height, more pods.
With one season under his belt with the high-speed Kinze planter, Gunnels has some advice for growers: "Don't be afraid of the new technology. The simplicity … makes it easy to move up."
Mark Movall, a corn and bean producer near Schaller, Iowa, is another enthusiastic proponent of this new generation of advanced planters and has high regard for his high-speed Early Riser model.
Equipped with Precision Planting's vSet meters, vDrive electric drive, Delta Force individual hydraulic row-unit down pressure and SpeedTubes, the 24-row, front-folding 2150 planter knocked out all Movall's corn acres this season at speeds of 8- to 9-mph.
With the faster planting speeds, Movall went from planting around 300 acres a day in prior years to between 450 and 500 acres a day this season. And that has meant more timely planting, more uniform emergence, and a bit more sleep.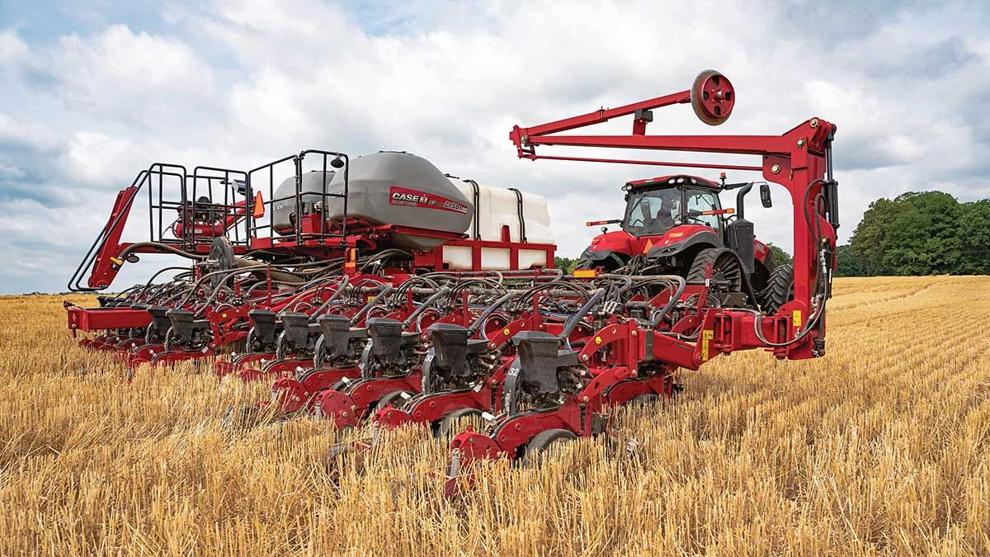 I caught up with Mark in late June one morning while he was spraying one of his bean fields.
"Stands planted with the 2150 were excellent. Love the spacing and even emergence," Movall said. "The population, singulation and spacing were exactly what we were seeing on the Precision Planting 2020 monitor while we were planting."
Movall also noted that the more-consistent depth control allowed improved germination and enabled plants to emerge within a 12- to 24-hour period — a key reason for the good stands.
"We were also seeing singulation of between 99.5 to 100%," Movall said. "There were virtually no skips and no doubles."
"Case-IH promotes picket-fence stands. And that's what we saw this year with the 2150. The planter is exactly what they advertise."
Rick Haun has more than 35 years' experience writing about ag and industrial equipment, much of that time with John Deere. He resides in Shawnee, Kansas.