Just as combines have gotten bigger, so too has their front-end equipment.
Platforms and corn heads have grown in leaps and bounds to help feed the giant-size appetite of today's Class 8 and 9 combines. And where once upon a time 12-row corn heads and 30-foot platforms were considered big, new 24-row heads and 40-foot-plus platforms are becoming the norm.
The new platforms and heads on the market today are not only bigger but are loaded with innovative new technology that can make a measurable difference in what you harvest and put in the bin — especially if you're grappling with a short bean crop, lodged corn, or aren't blessed with table-top bottom ground.
One brand that has earned its stripes in Midwest beans is Honey Bee. The company has unveiled its latest draper head — the new AirFLEX NXT header. The new generation carries forward the customer-favorite features of its popular AirFLEX line, including an independently suspended cutterbar controlled by air, all-mechanical drive and the ability to switch from flex to rigid mode with the push of a button.
The new AirFLEX NXT now features cab-adjustable hydraulic skid shoes, a narrower end shield and a larger 12-inch diameter cross auger for improved crop flow. A new strut configuration provides better floatation throughout the full flex range. The result? Better cutting performance over uneven terrain, and more grain in the tank.
Redesigned knife sections also help reduce vibration and oscillation loads and prolong wear life of the knives. A new high torque reel drive is also available for harvesting crops with high material loads.
"Customers are happier than they have ever been with the performance and reliability of the original AirFLEX," said Spencer Groth, Honey Bee marketing manager. "The AirFLEX NXT carries the cutting performance advantages of the original AirFLEX and builds upon them with these important new changes."
The company is currently taking AirFLEX NXT orders for production in 2024.
In other platform news, New Holland and MacDon Industries have announced the debut of their co-branded combine header, the FD2 FlexDraper. Compatible with New Holland CR or CX Series combines, the new flex draper offers more flex range for better terrain-following and improved cutting capacity.
"The FD2 FlexDraper was introduced with the vision of pushing our harvesters to do more — more capacity, more flex and more speed — and get the job done in less time," according to Curtis Hillen, combine marketing manager for New Holland North America. "This partnership combines the unique harvesting portfolios of New Holland and MacDon to offer our customers a cohesive harvesting solution." 
The FD2 FlexDraper is available in widths up to 50 feet and is offered with a new triple reel configuration on headers 40 feet and longer. In addition, the FD2 models offer the MacDon clean sweep crop keeper system which helps improve crop flow.
The new header also features the MacDon Active Float System — a float response that navigates over ground fluctuations with up to 70% more flex. With up to 17-inch flex on either end of the three-section header, the new platform provides a clean, close cut without gouging the soil.
For the ultimate in terrain-following, the new drapers can be outfitted with ContourMax Wheels, which ensure uniform stubble height whether skimming atop the soil surface or harvesting up to 18 inches off the ground.
The FD2 drapers also offer the MacDon ClearCut high-speed cutting system, which features new knife sections, new guard options and an improved knife drive system. The result is 30% more speed than the previous FD1 model.
And if you have far-flung fields, you'll appreciate the EasyMove Transport System which lets you travel up to 20 miles per hour when moving between fields.
If you've got terraces or rolling terrain, you might be interested in the Adaptive Flex Technology (AFT) now available from Geringhoff, the German-based corn head maker. AFT-equipped heads feature a pivot point in the center of the frame that lets the head flex up or down up to 8 degrees — flexibility that reduces losses and boosts yields when harvesting slopes and uneven terrain.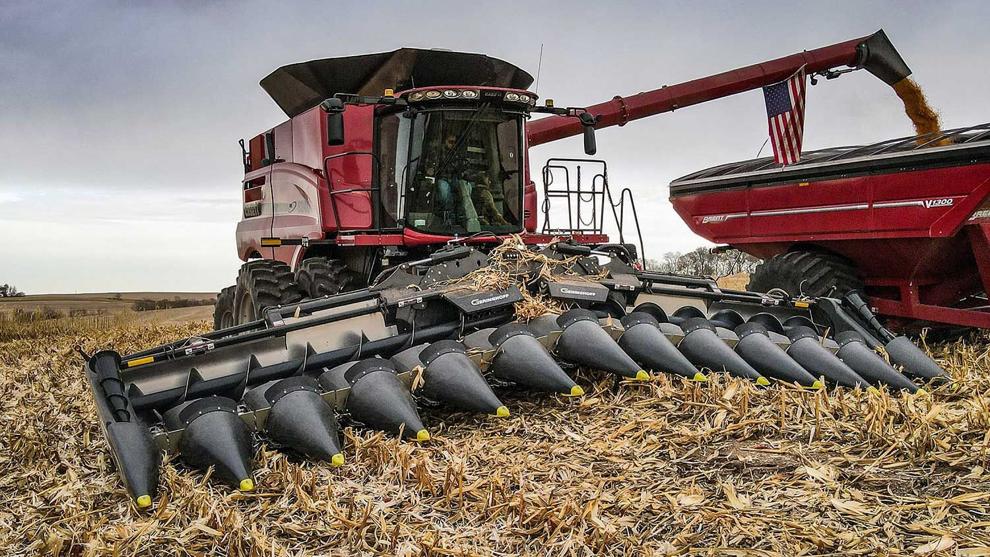 Available on Geringhoff 12- and 16-row heads with 30-inch row spacing, the system offers fully automatic height adjustment or can be controlled manually.
The 12-row head has a flex range of up to 50 inches, while the 16-row gives you a whopping 68-inch flex range — nearly 6-feet of flex that can tame the most undulating ground.
"Finding new and better ways to help farmers get the most out of their harvest is what we do best," said Craig Lee, Geringhoff sales director. "The AFT head will revolutionize the way corn is harvested on terraces or hilly conditions."
In other news from Geringhoff, the company has announced availability of XDC rolls. Available on the company's NorthStar Elite line, the new XDC rolls feature four carbide knives that can crimp, slice and dice residue in 2.5 to 3.5 inches pieces, promoting faster decomposition and improving seed-to-soil contact when planting.
If you're looking to maximize the full capacity of your combine investment, it will pay you to take a closer look at the innovative front-end equipment that keeps getting bigger — and better.
Rick Haun has more than 35 years' experience writing about ag and industrial equipment, much of that time with John Deere. He resides in Shawnee, Kansas.