In Ireland in 1960, a group of veterinarians founded Bimeda® to supply veterinarians with high-quality products. Since then, Bimeda has grown into a leading global manufacturer, marketer and distributor of veterinary pharmaceuticals and animal health products.
Bimeda has a strong presence in the United States, with a headquarters in Illinois, four manufacturing facilities and an effective boots-on-the-ground sales team making connections with folks all across the country. After all, Bimeda was founded by veterinarians and is driven by science, the latest in veterinary medicine and a passion for helping their customers' businesses succeed.
Macrosyn from Bimeda
In 2020, Bimeda was the first animal health company in the US to gain FDA approval on a branded alternative tulathromycin injection product after Zoetis®' patent on Draxxin® expired. Bimeda's product is named Macrosyn® and, like the pioneer, is a broad-spectrum, fast-acting antibiotic for the treatment and control of bovine respiratory disease (BRD).
"Just like in human health products, new products receive patent exclusivity," says Chris Thomsen, a veterinarian who has worked exclusively with cattle for 23 years and is one of Bimeda's technical services veterinarians. "When that expires, brand alternatives or generics can become available, provided they go through all the required steps." Companies complete years of careful development and rigorous testing before launching a product. The result is Macrosyn, a bioequivalent of Draxxin. "That means, according to the FDA, it's the same product chemically," says Thomsen.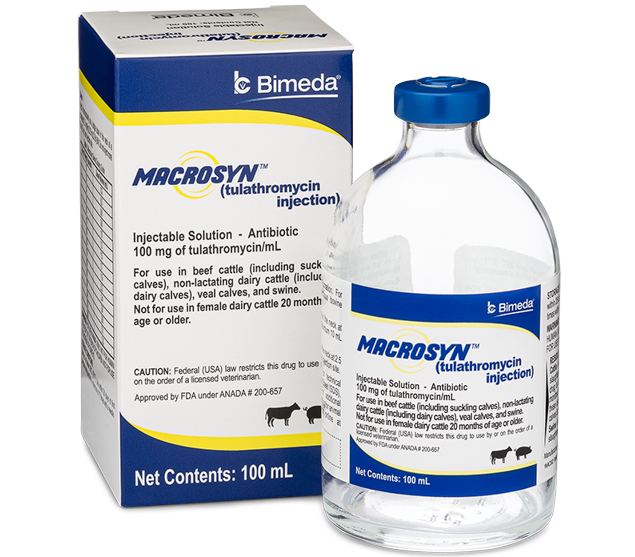 Who Macrosyn helps
Cattle producers do their best to protect the health of their herds. "Their main goal is to take care of their animals," says Thomsen. "We're supplying beef to the world, and we've got to have healthy animals." However, cattle sometimes get sick, and producers need to respond quickly to protect their herds. Macrosyn is that effective antimicrobial product producers can turn to in a pinch and know it works. "Macrosyn has had great success treating hundreds of thousands of cattle," says Thomsen.
How do the folks at Bimeda know how effective Macrosyn is? After all, while it was the first brand alternative to hit the market, there have since been others. So, with multiple options, why would a producer turn to Macrosyn? Bimeda did what no other company did after launching its product.
"We invested in running big studies to show equivalence between Macrosyn and Draxxin in the field," says Thomsen. "We've done the research." However, this rigorous testing is only part of what gives customers confidence in Bimeda — a family-owned company that prioritizes relationships and connecting with its customers. "The cattle industry is a very personal business," says Thomsen. "Most of our salespeople are involved in the cattle business. So they're deeply rooted in the industry and understand it at a high level."
This deep industry experience provides unique insights into the daily challenges cattle producers face and the types of products that might help them succeed in their business. This experience, combined with proven products and a passion for supporting cattle producers, is a recipe for success. So, if you're a cattle producer looking for a tried-and-true product to protect your herd's health, check out Bimeda's Macrosyn, or have a conversation with your veterinarian about your options.

This content was produced by Brand Ave. Studios. The news and editorial departments had no role in its creation or display. Brand Ave. Studios connects advertisers with a targeted audience through compelling content programs, from concept to production and distribution. For more information contact [email protected].