To keep your livestock farm productive and profitable, precision feed batching can be a key ingredient. The industry-leading Batching Control System from BinTrac by HerdStar of Mankato, Minnesota, precisely batches and accurately monitors feed inventory and usage.
Proven accuracy and flexibility
Accurate, reliable and easy to operate, the BinTrac Batching System's modular, configurable design means that the system can be easily matched with your unique application and requirements. "We can put together a system to meet a multitude of needs. The modular design allows our solution to be configured based on the customer's site-specific requirements," said Mitch Wilking, HerdStar sales manager.
For instance, in one type of single-batching configuration, the BinTrac batching controller is connected to a single inventory bin equipped with patented BinTrac load cells and programmed to unload a target amount of feed. Dual-batching configurations include a setup with a dual console connected to a single weigh bin. The dual console controllers are assigned, respectively, to deliver feed from the inventory bin into the weigh bin and from the weigh bin into the house. These are just two of many possible BinTrac system configurations.
Batching can be automated or manual — your choice. You can start a batch any time of day and repeat each day at the same time, or manually program a batch amount. The batch amount is retained between batches and can be easily adjusted.
Increased consistency, reduced human error
The BinTrac controller provides precise digital records, eliminating the need for paper logs, reducing human error that is inevitable with old-fashioned mechanical scales and pen-and-paper logs, and saving valuable labor. At a glance, you can see:
Current inventory
Batch history
Batch progress
Fill events
Daily usage
Easy installation
"Installing a BinTrac weighing system is simple and safe during new construction or in a retrofit application," said Larry Behrens, BinTrac business development manager. "You don't need a jack or crane because the patented A-frame bracket does the lifting and the bin is raised only one-half inch, so repositioning of augers is not necessary," Behrens said. He also noted that "the bin doesn't have to be completely emptied prior to installation, and a simple turn of the lifting bolt levels each leg."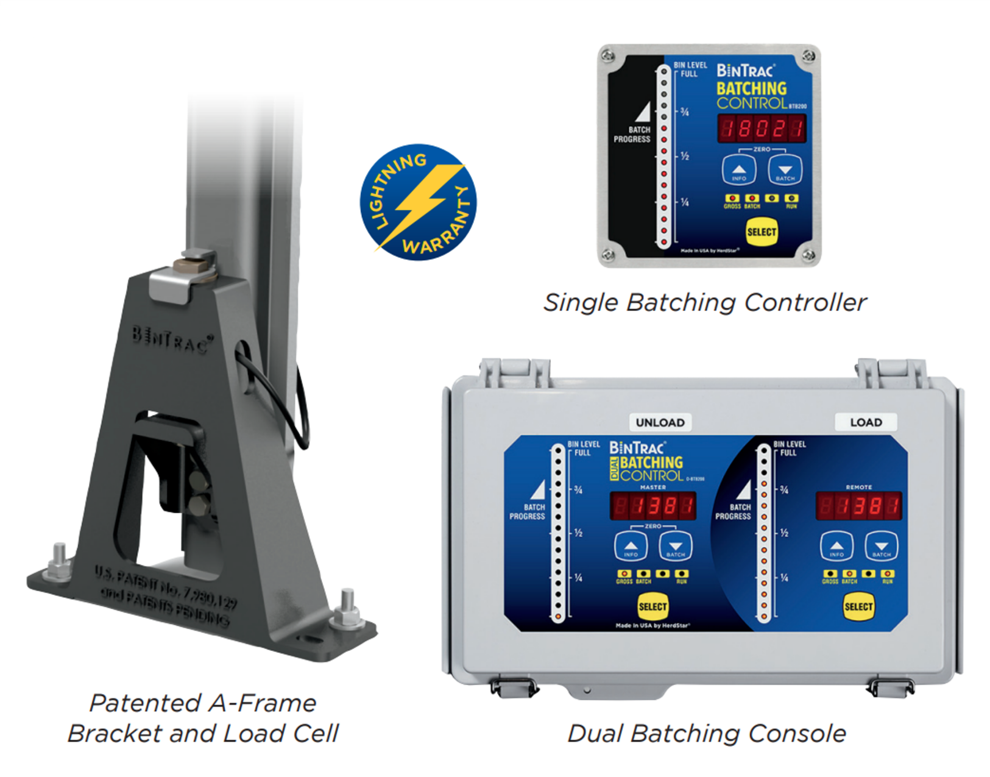 No calibration needed
BinTrac's proven electronic design is accurate and reliable. "Mechanical scales require ongoing system weight calibration, whereas BinTrac load cells are precalibrated, eliminating the need to calibrate the system to a known weight," Wilking said.
Protection from the elements
BinTrac systems are professionally designed and built with outstanding protection against harsh environmental conditions to ensure many years of reliable performance. "The load cell is positioned high up in the A-frame bracket to help protect it against dirt, debris, rain, snow and ice. Our components are highly safeguarded from electrical issues and the standard warranty even provides coverage against lightning damage," Behrens said.
Today's feeding impacts tomorrow's results
Using technology to ensure livestock are fed proper amounts gets robust results. "Adhering to a precise and accurate feeding schedule helps drive success for the producer," Wilking said.
BinTrac's reputation built on proven performance
The strong reputation of BinTrac's precision batching solutions is built on more than 15 years of proven field performance and thousands of batching system installations. Visit the BinTrac website to view product brochures or videos and contact them to learn more.
This content was produced by Brand Ave. Studios. The news and editorial departments had no role in its creation or display. Brand Ave. Studios connects advertisers with a targeted audience through compelling content programs, from concept to production and distribution. For more information contact [email protected].