Today's livestock growers and integrators are faced with numerous challenges, including labor shortages, animal diseases, governmental regulations, and rising input costs. Successful livestock production requires that key influences on the animal's performance such as feed, light, air, and water are carefully monitored and managed. Feed represents the largest input cost and can account for up to 70% of production costs for pork and poultry producers.
 As precision livestock farming continues to evolve, the volume of data being generated and collected daily by various systems is ever increasing. For livestock production data to be effective and useful, it must be accurate, dependable, and easily accessible. Getting the most out of every pound of feed with proper data monitoring can go incredibly far in improving operational efficiency, animal performance, and ultimately your bottom line.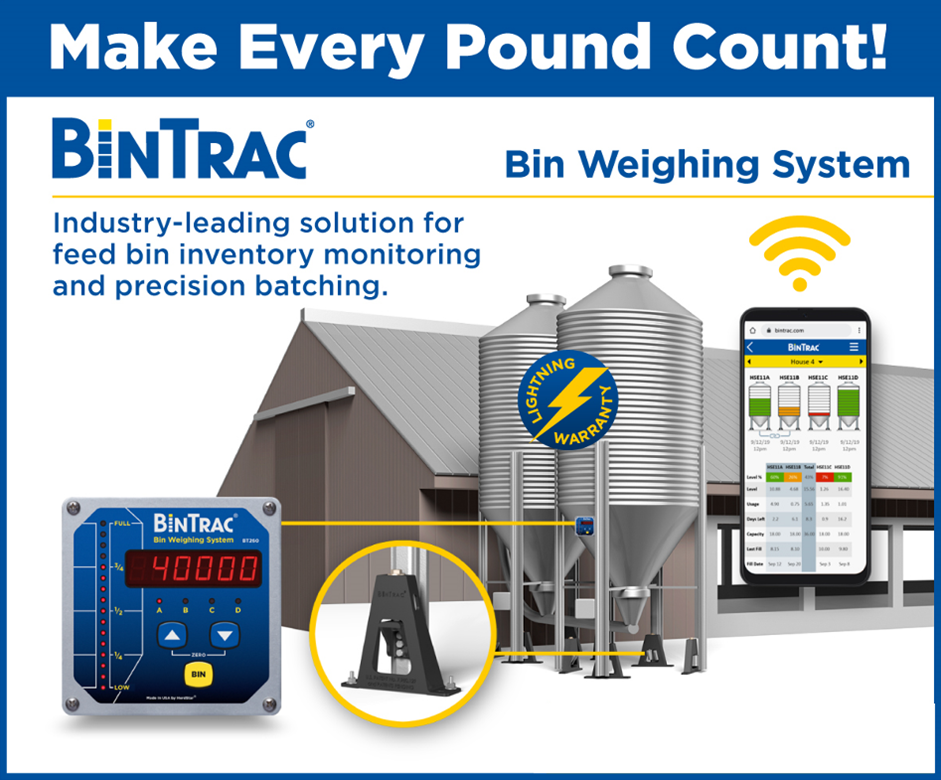 A proven and patented solution
BinTrac by HerdStar, based in Mankato, MN, specializes in weighing systems that allow precise monitoring of feed bin inventory and usage. Their load cell-based design, combined with proven electronics technology, results in a complete bin monitoring solution for the multiple ag sectors they serve. BinTrac scales are highly regarded and trusted by growers for their proven accuracy and reliability and can be found on thousands of feed bins throughout North America and beyond.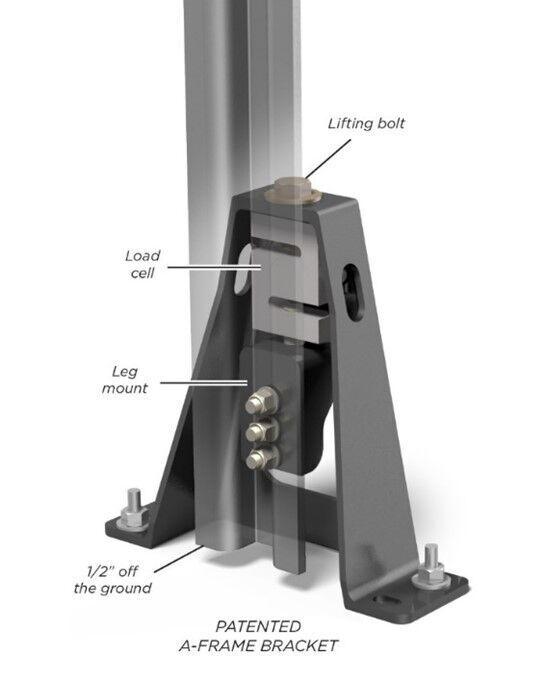 The patented A-Frame load cell bracket allows for a quick, simple, and safe installation without the need for cranes or other heavy lifting equipment to raise and lower the bin. This exclusive feature only requires the bin to be raised ½ inch off the pad by simply turning the top jack bolt. In a retrofit application, there is no need to reposition the feed lines due to the minimal bin lift, and the system does not require the bin to be empty for installation.
S–style load cells, which are mounted high in the bracket assembly, provide excellent protection against the elements and deliver consistent accuracy and reliability versus other load-cell based offerings. Because the load cells are built to demanding specifications and are pre-calibrated at the factory with matching outputs, there is no need to bring in a known weight to perform initial calibration or maintain system calibration. This ensures accurate weighing upon initial start-up and throughout the system's lifecycle, regardless of climate and environmental conditions, thanks in part to the built-in temperature compensation. The standard load cell warranty also includes lightning protection.
Monitoring options include a basic digital indicator that is mounted at the bin's location, an integration with the barn system controller utilizing one of the many HouseLink interface options, or a connected, cloud-based monitoring solution which offers remote access and reports to a variety of stakeholders, including the farmer, feed mill, and integrator. A modular design allows the system to be configured to match the unique requirements of each customer and application. "With a BinTrac system, users are able to view current feed bin levels in real time and can look at other critical information such as fill events and 24-hour feed usage," says Larry Behrens, BinTrac business development manager.
Benefits of accurate weighing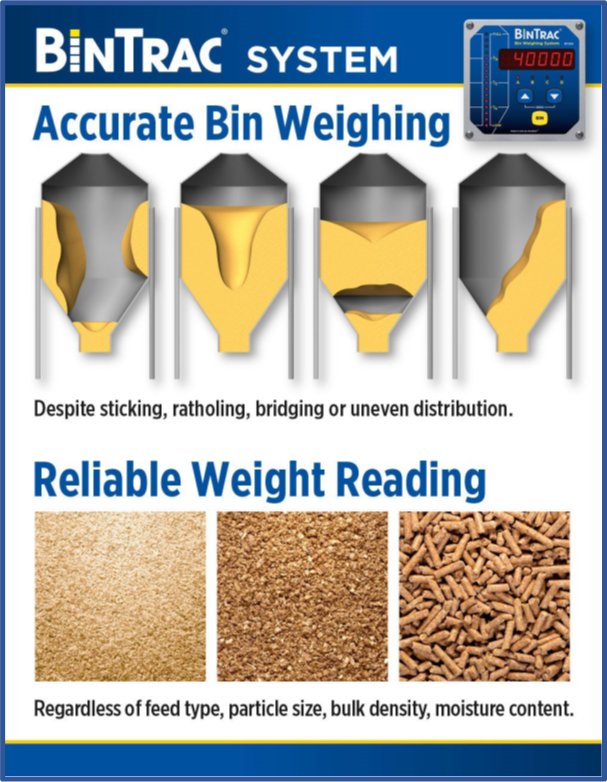 The consistent accuracy and dependability of a BinTrac weighing system and convenient access to the scale data provides customers with several key benefits, such as:
Knocking on the side of a bin to estimate feed levels is not only prone to significant error, but also a waste of valuable labor. "The BinTrac system allows caretakers to spend more time caring for the livestock and less time checking on feed inventory levels," says Mitch Wilking, HerdStar sales manager.
Improving safety
Climbing ladders to look inside the bin can be a very unsafe practice, especially in wet, icy, or snowy conditions.
Preventing costly feed outages
Detect when you are at risk of experiencing an out-of-feed event before it puts your animals and bottom line in danger.
Forecast and schedule feed deliveries more accurately.
Better coordination with feed mill
Get the right amount of feed delivered to the right bin at the right time.
Avoid the extra cost of emergency deliveries.
Minimize the amount of feed leftover when livestock is ready to be moved out of the barn.
Less going in and out of buildings or going to the site just to check feed levels.
Fewer trucks coming and going on the farm. "BinTrac technology can help optimize truck routes and ensure that the correct amount of specified feed is delivered to the right bin at the right farm at the right time. Limiting the number of vehicles and people entering the farm is a critical part of biosecurity protocols," says Wilking.
Precision batching control option
Ensures that animals are fed the desired amount each day, with electronic recordkeeping to verify completed batch amounts.
Integration with other control systems and software
Converge real-time feed monitoring with controllers and data management platforms to proactively stem losses and make accurate projections.
Ability to see feed bin weights both at the house controller and at the bin itself. "We've worked hard at collaborating with other industry providers to ensure that our feed bin data is readily accessible," says Behrens.
Using cloud-based access to feed data, integrate reliable bin monitoring with existing software used to track production and make accurate projections.
Moving forward
Most industry experts are expecting the ag-tech market, and especially precision livestock farming, to show significant growth over the next several years. Collecting and managing useful feed data will certainly play a role in helping the entire industry continue to innovate and improve. With a variety of sensor and software options on the market, choosing the right technology with an eye on the future is critical for sustaining your operation. BinTrac has the solutions to help you accurately monitor and manage feed inventory and usage when every pound counts. 
You can see the BinTrac products in person and discuss your needs with BinTrac staff at many events throughout the year, including PEAK (Midwest Poultry Federation), IPPE (International Production and Processing Expo), World Pork Expo and several other state or regional events that support the swine and poultry industries.
For more information, visit bintrac.com or call 877-246-8722.
This content was produced by Brand Ave. Studios. The news and editorial departments had no role in its creation or display. Brand Ave. Studios connects advertisers with a targeted audience through compelling content programs, from concept to production and distribution. For more information contact [email protected].