Russell Hedrick is no stranger to trying new things. A former career fireman turned first-generation farmer in Hickory, North Carolina, Hedrick has grown his operations from 30 acres in 2012 to 800 acres today. He's developed a reputation as a successful farmer who takes innovative approaches to his no-till methodology. Partly, his willingness to experiment is because he didn't grow up farming and doesn't have family traditions compelling him to farm a certain way.
Recently, Hedrick has grown his reputation further by breaking North Carolina's corn yield record with his 2022 entry in the North Carolina Corn Growers Yield Contest. He blew past the previous record with a stunning 459.51 bushels per acre, using AgVenture's brand AV9916AM™ corn.
AgVenture Inc. is the nation's largest network of independent seed companies, facilitating a truly local approach to getting suitable seed types into the hands of farmers within a geographical area. Hedrick purchased his corn seeds from Sweetwater Creek Seeds, an independent North Carolina seed company that sells AgVenture corn and soybean products.
"One thing about our farm is we try and do as much research as possible and always try new varieties," says Hedrick. For example, he heard about AgVenture's 116-day variety from a fellow farmer in Oklahoma. "It piqued our interest," says Hedrick, who is always looking for new varieties to try on his operations.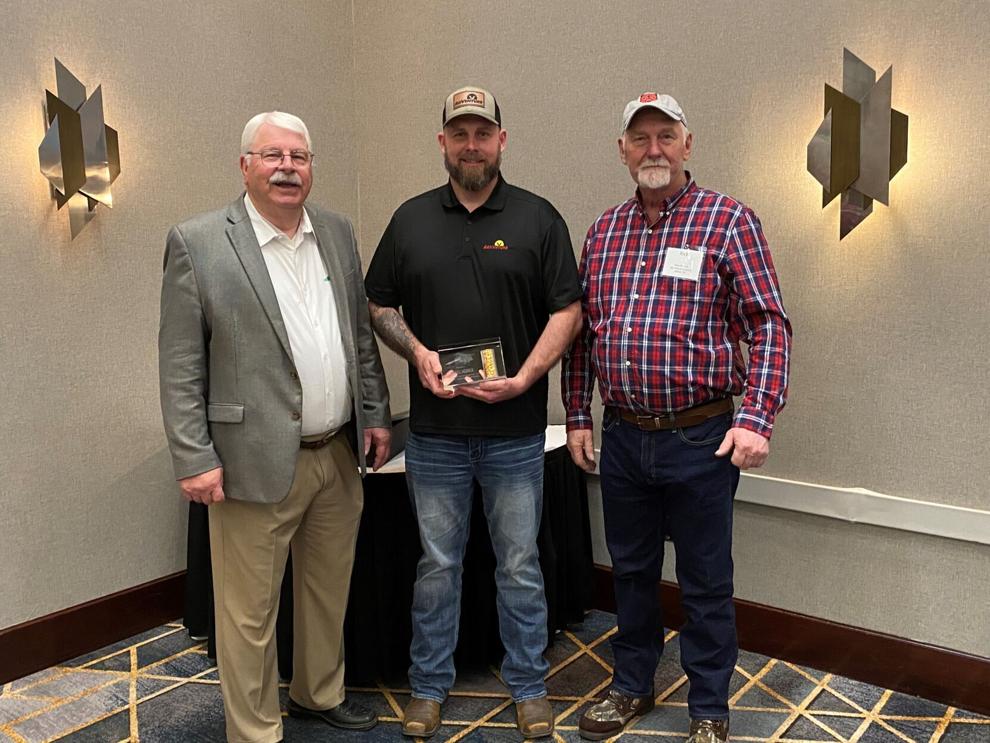 An award-winning crop yield
How Hedrick manages his fields for contest purposes differs from how most folks manage their acres. After all, the contest has particular entry rules. A farmer must have 10 acres or more of one continuously planted corn hybrid. Participants must report every detail of their growing practices, including irrigation, nutrient supplementation, cover crops, chemical uses and integrated pest management plans.
"Typically, we do a minimum of two passes with nutrients for 90% of our corn acres," says Hedrick. "On our contest blocks, it's not uncommon to run six or seven passes and spoon-feed that crop for maximum yield."
Hedrick credits his success mainly to his methodical soil testing and his ability to dial in practices that give his crops precisely what they need.
"We started using this new soil test called the Haney test in 2013," Hedrick says. "The Haney test gives information on additional forms of nitrogen. I can take that as a nitrogen credit and understand better where my nutrients are." Hedrick likes the Haney test because it uses water and root exudates to provide a realistic impression of the soil's micro and macronutrients.
Lessons learned
Hendrick has advice for his fellow farmers: "Doing our own agronomy work is one of the best returns on investments for us and other farmers that do so," says Hedrick. "As the farmer, you can make better management decisions by walking your acres and seeing those visual indicators of crop conditions including weed, insect and disease pressure."
He knows exactly when his crop is able to absorb the most moisture and can time irrigation and nitrogen additions to maximize uptake and reduce the amount of nitrogen he has to apply.
Since taking up farming, Hedrick has learned everything he can. He talks to other farmers, reads research publications and experiments with anything he thinks might help his operations.
For instance, Hedrick learned about and implemented cover cropping after struggling with erosion. Back in 2012, his soil had about 1.7% organic matter. "Now that we've done cover cropping and gotten livestock in there, by 2022, we had an organic matter content of 8.2%," says Hedrick. The result is increased soil water retention, healthier soil and crops that can withstand drought for longer.
This open-minded approach to farming eventually brought Hedrick to adopt AgVenture's high-quality seed corn hybrids and soybean varieties, which are rigorously tested and then personally selected by independent seed companies for local use. When Hedrick started using the AV9916AM™ with lofty yield goals, he knew it was an experiment.
"It was either going to do good or fall on its face," says Hedrick. But with his innovative techniques, informed by a decade of fine-tuning, the hybrid performed beyond his expectations. "We had ears that weighed over a pound," he says. "If that doesn't get you excited as a farmer to see a corn ear that weighs over a pound, I don't know what would."
For more information, visit agventure.com.
This content was produced by Brand Ave. Studios. The news and editorial departments had no role in its creation or display. Brand Ave. Studios connects advertisers with a targeted audience through compelling content programs, from concept to production and distribution. For more information contact [email protected].