For growers across the country, hopes of high yields spring eternal the moment seed lands in the furrow. Using microbe-rich inoculants — like those found in the products from TerraMax — boosts growing conditions and stimulates important responses. For corn, these bacteria help with nitrogen and phosphorus utilization. For soybean crops, the microbes' focus is to ensure nitrogen supply via increased nodulation on the plant's root structure.
"The more nodules you have, the better off you are," says Dan Luepkes, a high-yield grower farming 2,000 acres of less-than-stellar soil in northern Illinois.
While not a big believer in using starter on soybeans, the fifth-generation farmer is savvy enough to know that ramping up soil biology is the first step in achieving an abundant harvest. Each spring, Luepkes' goal remains constant: "To get (the soybeans) out of the ground fast and flowering by the first day of summer, which will translate into yield."
To complement his green thumb, Luepkes — who joined Season 3 of "The Podfather" in 2023 following a successful six-season run on "Corn Warriors" — is a longtime user of TerraMax products. In fact, he's currently using New Tech SI-IF and Vertex-IF on 100% of his soybean and corn acres, respectively.
"TerraMax products deliver on their promise and do what they say they're going to do at a reasonable cost," says Luepkes, who — while not one to boast — is currently pulling his highest bean yields from sub-par soil boosted by drip irrigation and TerraMax inoculants. This is especially impressive considering his challenging geographic location.
"I'm almost to Wisconsin," he says. That's far north of many of the highest-yield farmers in the state. Still, he's pulled off first-place finishes for Illinois in the NCGA National Corn Yield Contest for seven years running, with an all-time high of 328 bushels per acre in 2021.
On "The Podfather," Luepkes goes head-to-head with series veteran and Ohio farmer Cory Atley who, way back in 2015, was researching liquid inoculants when he discovered TerraMax New Tech SI-IF. The results were staggering from the start.
"We've seen instantly a four to six bushel increase (the first year) … and it's been part of our operation ever since on every acre of soybeans," says Atley of 4,000 non-irrigated acres dedicated to the crop. With one success under his hat, Atley turned to TerraMax for a corn solution.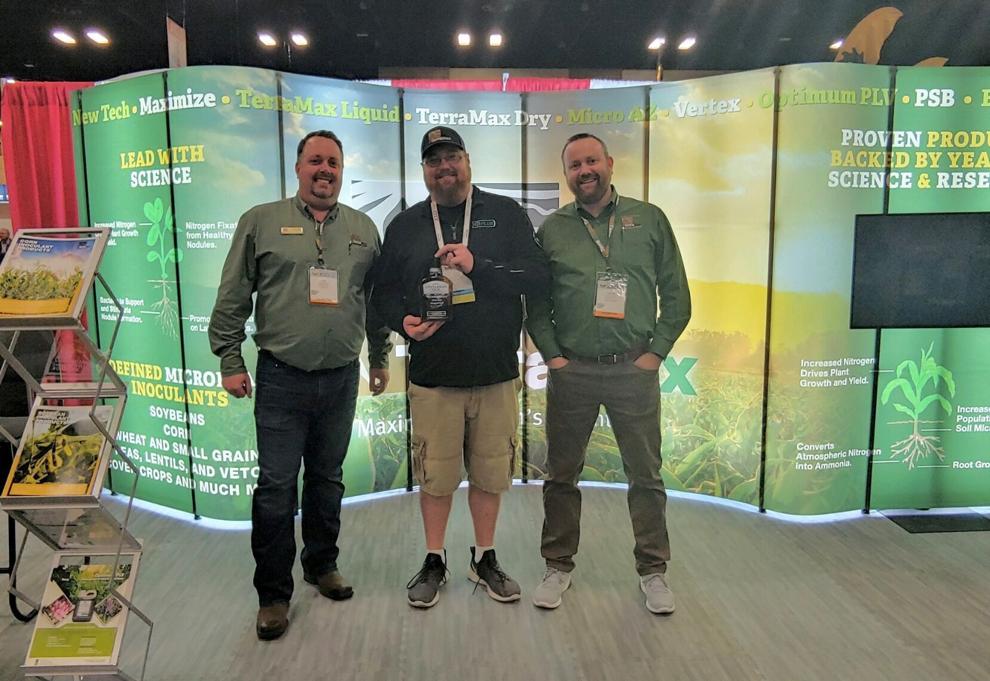 The experts pointed him toward Vertex-IF, a product boasting the benefits of fixing atmospheric nitrogen and increasing root growth through the stabilized bacteria Azospirillum, a second staple product on Atley's farm. "That's always been our problem, trying to unlock more phosphorus within the soil to get it into the plant," Atley says of the in-furrow treatment that's been going out on every acre of corn since 2018.
Though the results of TerraMax products speak for themselves, Atley especially appreciates the knowledge the company brings to the table.
"Their ability to educate the grower on the products being used is the biggest thing I like," says Atley, an equally big fan of the products' two-year shelf life. "With (TerraMax) products, you can order a little bit extra without having to worry about them going bad and wasting money."
Despite their differences, the two growers agree on one thing: There's a direct correlation between a plant's subterranean beginnings and ultimate, above-ground yield.
"You need a solid root base on any plant," says Luepkes, something he's successfully achieved — even when competing against the better ground and better weather of central Illinois — in large part due to TerraMax products. His confidence is so high he's decided to branch out into their MicroAZ-ST for wheat, which — from what Luepkes can see so far — "looks like it's doing a good job."
Atley plants the final endorsement from not too far afield: "(TerraMax) products are easy to get, easy to handle, and they work. I like easy."
Ready to buy? Give TerraMax a try.
This content was produced by Brand Ave. Studios. The news and editorial departments had no role in its creation or display. Brand Ave. Studios connects advertisers with a targeted audience through compelling content programs, from concept to production and distribution. For more information contact [email protected].