Automatic and even heat in pig farrowing and nursery crates improves piglets' health, lowers labor costs and yields significant energy savings. User friendly and easy to install, MicroZone by HerdStar of Mankato, Minnesota, regulates the temperature of heat lamps or or mats, eliminating the need for manual adjustments.
Greater piglet comfort, lower mortality
"The optimum temperature for piglet health varies with their age," said Larry Behrens, HerdStar business development manager. "Newborn piglets need the most supplemental heat, and the need becomes less and less as they grow. Regardless of their age, piglets do best in an environment with constant and uniform temperature."
Constant temperature control provided by MicroZone reduces piglets' susceptibility to illness and lowers piglet mortality. More than half of pre-weaned piglet losses are associated with crushing, costing pork producers tens of millions of dollars annually, Behrens said. "The MicroZone control system automatically maintains the desired temperature range in the piglets' environment. They are less likely to crowd near the sow to stay warm, where the risk of getting laid on and crushed is much higher."
Save time and labor costs
Without an automated system like MicroZone, continually monitoring the piglets' comfort level and making manual adjustments is a time- and labor-intensive process, according to Mitch Wilking, HerdStar sales manager.
Manually adjusting thermostat settings for the mats or lamps or raising and lowering heat lamps is no longer necessary with MicroZone. The MicroZone controller automatically adjusts power to the heat source based on room temperature, a user-defined temperature control band and ramp settings.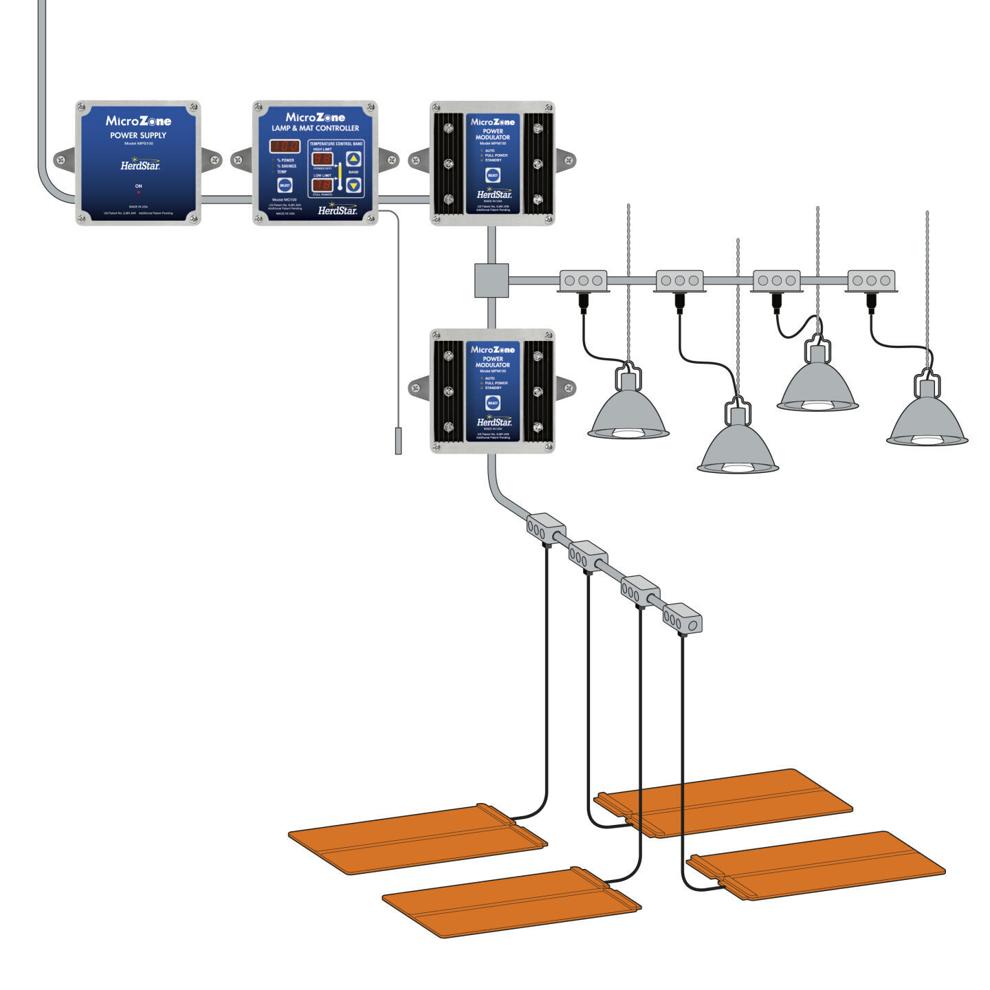 Customize MicroZone to meet your needs
The MicroZone controller, modulator, power supply and temperature sensor are flexible and versatile. One MicroZone controller per farrowing room controls up to 12 modulators, and each modulator is designed to operate one 20-amp circuit. "MicroZone can be customized to a specific temperature ramp rate based on a producer's needs or adjusted according to current piglet comfort level," Wilking said.
Compatible with all brands of heat mats and lamps on the market, the MicroZone system can be interfaced with third-party barn controllers through the 0-10-volt analog input.
Lower energy bills
MicroZone gives producers more control over their electrical consumption and cost. As growing pigs need less supplemental heat each day, MicroZone reduces power while maintaining the optimum temperature.
With MicroZone, producers can see energy savings of up to 40%, depending on number of crates in the barn, the heat mat model, number and wattage of heat lamps and local kilowatt/hour cost. In addition, MicroZone equipment may be eligible for a rebate from some utility companies — check with your local power provider.
Additional benefits of power management
In the event of a power outage, MicroZone slowly reapplies power to reduce peak demand on the power utility or a backup generator. "Having the MicroZone controls not only saves on energy costs, but also extends the service life of the heating product, whether it's a lamp or a mat," Wilking said.
Comfort, convenience and savings
Managing supplemental heat with MicroZone saves money and time and improves your animals' welfare. To learn more, visit the MicroZone website, call your local equipment dealer or stop by the HerdStar booth at various trade shows, including the World Pork Expo.
This content was produced by Brand Ave. Studios. The news and editorial departments had no role in its creation or display. Brand Ave. Studios connects advertisers with a targeted audience through compelling content programs, from concept to production and distribution. For more information contact [email protected].